Initially named the Welsh Karate Federation the National Governing Body (NGB) for Karate in Wales was established in 1980 with a total membership of six associations.
It now has 31 Autonomous Member Associations, which includes both full voting members and provisional non-voting members. This represents approximately 5000 practising Karate in Wales.
In October 2002 the name of the Welsh Karate Federation was changed to that of the Welsh Karate Governing Body. In July 2006 in line with other sports ngb's, the Welsh Karate Governing Body became a limited Company i.e. WKGB Ltd.
Each member association has representation opportunities at General Committee meetings, held four times each year, where the Welsh Karate Governing Body' Ltd's policies and programme of activities are discussed.
The Welsh Karate Governing Body Administration Office provides a focal point for all administrative matters and also acts as an information bureau for the media.
What is karate?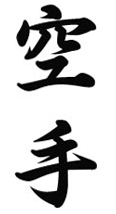 Karate is a Japanese based self defence system, it is said to have originated from Okinawa located in the Ryukyu island archipelago on the southern most part of Japan.
The definition of karate accepted from the Japanese characters (Kanji) depicting Karate is "Empty Hand" Karate has enjoyed significant growth from its initial introduction to the west following the second world war and is found in most countries in the world.
The WKF (World Karate Federation) is the only world karate body recognised by the International Olympic Committee (IOC) and has 174 countries in membership. There are various styles of karate but the WKF recognise Shotokan, Wado Ryu, Gojo Ryu & Shito Ryu as the 4 main styles.
What are the Benefits of Karate Training?
Karate training provides access to an excellent cardio - vascular workout programme which maintains the general fitness of all those who participate. Karate can be practiced by anyone of any age and of any ability, there are no limits or restrictions relating to gender, physical ability religious beliefs etc except those imposed by the individual themselves.
Unlike a lot of sports continuity of training can be assured as barring public holidays most karate clubs are open 50 weeks per year.
Other benefits of karate training include:
builds self confidence
muscular and aerobic fitness
increased perceptual awareness
balance and co-ordination
improve concentration
self discipline
self-Defence
positive attitude
stress reduction
socialising
What does the WKGB Ltd Do?
The WKGB Ltd organises, regulates and develops karate in Wales - it offers a range of services and also liases with other national and international organisations on behalf of its members. It acts as a lynchpin for developing coaches in compliance with current good coaching practices and advances/developments in sports science and also provides a structure for developing Officials from National to International status.
The Sports Council for Wales (SCW) fully supports the aims of the Welsh Karate Governing Body Ltd and emphasises the necessity for all local authorities, education establishments and sports centres to check the credentials of any Karate coaches currently using their facilities.
It is recommended that all karate coaches in Wales should be registered with the WKGB Ltd and hold coaching qualifications accredited by them.
Services offered include:
Full time manned office
Technical back up
WKGB Ltd Licence inc member to member insurance
Public Indemnity Insurance
National Squad sessions
National Squad residential training camps
Sports Council recognised National Coaching Qualifications
Access to WKGB/BKF/EKF/WKF Referee & Judges Qualifications
Access to WKGB/BKF/EKF/WKF International Competitions
First Aid courses
Sport Coach Uk Courses
Criminal Record Bureau checks
Access to Sorts Council grants
Karate credibility
Web site
Does the WKGB Ltd offer anything else?
The Welsh Karate Governing Body places great emphasis on the professional training of its officials. The WKGB Ltd Chief Referee and Examiner is a World Karate Federation qualified International Referee.
WKGB Referee & Judges courses are held on a regular basis together with rules seminars and courses to obtain Competition Coach Licences awards.
Full theory and practical examination courses are used for qualifying and upgrading existing National officials and Table officials, the practical part of the course is held at the Welsh Karate Governing Body Ltd National Championships. The Chief Referee is committed to developing the training of officials to Welsh, British, European and eventually World Level.
Requirements for WKGB Ltd national Officials
Minimum age of 21 years for National Judge
Minimum rank for National Judge is 1st Dan
Minimum age of 25 years for National Referee
Minimum rank of 2nd Dan for European Judge
Minimum age of 28 years for European Judge
How do I find out more about Karate?
Make enquiries at your local karate club
Check with the Sports Council for Wales
Check with the Welsh Karate Governing Body Ltd