Eligibility for Referee / Judge Status
Before attending a WKGB National Course for Referee/Judges Examination the candidate should ideally have some knowledge of the rules at association level. Although this is not a requirement all candidates must observe the strict rules of dress code and the following criteria:
The candidate must be over 21 years of age
The candidate must be 1st Dan or above (although Kyu grades can attend the course but cannot qualify)
A WKGB National Referee must be 25 years and over
European Judge/Referee must be 28 years and over and at least 2nd Dan
All candidates must be in possession of a current WKGB licence.
Provisional qualification will be awarded based on the assessments made by the Chief Referee.
The Chief Referee's decision is final
Ratification of any qualifications will be made at WKGB Senior or Cadet Championships.
Tatami Chiefs are appointed at the Chief Referee's discretion after a minimum of two years as "A" Referee
Consideration for International Qualification will be given after a minimum of three years as at the Chief Referee's discretion.
World qualifications may only be attempted if the candidate has obtained an international qualification, and is recommended to the World Karate Federation Referee Council by the Chief Referee.
All WKGB Referee and Judges Qualifications expire after 1 year.
Any disputes that arise regarding refereeing matters will be dealt with through the Chief Referee.
How to become a WKGB Ltd Referee or Judge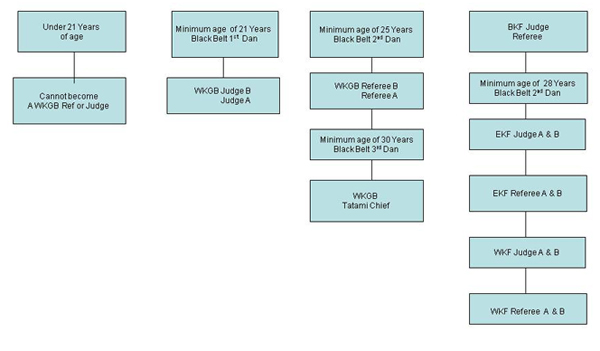 Referee & Judge Accolades:
Congratulations are given to the following officials of the WKGB.
Mair Phillips Gaining British Karate Federation qualifications as a Kata Judge & Kumite Referee on the weekend 5/6th of September 2009.
Dan Phillips for gaining the same qualifications as his mother above WOW! What a family double.
And a huge boost for the Governing body was young Jason Ashcroft on passing his World Referee in Rabat Morocco (12-15 Nov 2009) this is really massive for the WKGB as we now have two world qualified Referee's which is tremendous for such a small nation well done Jase.
Written by Chico Mbakwe